REQUEST LINE: 860-486-9487
IM: WHUSDJ

CURRENT SHOW
TBA




December 07, 2012
Author:
DJ Expensive Haircut
It's that time of the year again, folks: the air is getting chilly, the skies are getting dark and the need for warmth and companionship rises as the days progress. That's right, it's winter. If you're feeling like your lovely winter experience is lacking something or you need some good companion pieces for sitting by a fire, drinking hot chocolate or wandering through empty, snowy streets, I have a few albums that will help you appreciate those moments a little bit more. I usually categorize "winter music" as albums or songs that either have a cozy, warm feel to them or they're crawling with icy, bleak, dark or minimalistic tones.
For the cozy tunes, they're lo-fi in the sense that they have lots of heart put into each note played. The listener could easily picture the songs being recorded in a log cabin in the snowy wilderness (Like Bon Iver) or in the city during holiday season. They just exude warmth and it makes sense for one to put this on while snuggling up next to a fireplace and a good book.
On the other side of the coin, we have the albums that portray winter as a time of darkness, which it is in the literal sense, but they take that darkness and warp it into things that nightmares are made out of. Or, an album could be painting a dark portrait of a bleak, snowy landscape that's desolate of life. Either way, there's some chilling stuff out there.
Now, these choices mostly reflect my music tastes at the moment, which is pretty all over the place, but if you have some wintertime albums that you always listen to or albums you think would fit the descriptions I just gave, feel free to recommend them to the rest of the public! It's always fun finding new music that other people enjoy!
1. Animal Collective – Spirit They're Gone, Spirit They've Vanished
Starting this list with something weird! The first album from Avey Tare & Panda Bear under the moniker of Animal Collective is probably the weirdest in their catalogue but it has a certain homegrown charm to it. In their latest albums, the production is super over the top and every little detail is fine tuned for a maximum, streamlined experience. But this is kinda rough around the edges, but it has a kind of young, naïve energy to it that's really exciting, despite the obtuseness of the music. Images that come to mind include young kids frolicking in the snow for the first time, kids having fun at Christmas with new toys, and small angels floating around spreading winter cheer.
2. Ben Frost – By the Throat
By the Throat is an extremely intense listen. It is definitely not one of those albums I was talking about before where you can cuddle up next to a fire and read a nice book. This album is all about getting your brain blasted at by harsh stimuli coming to you in the forms of skull-rattling noise, wolf snarls and howls and creeping crescendos ripe with paranoia. Doesn't this sound like a fun time? Well, it really is an enjoyable listen, I think. The concept behind the album is you're traveling in the wilderness by car or something until you crash and become brutally injured. Then, wolves find you and start to attack your defenseless body, paired with some of the most disorienting strings and painfully stressful wolf howls. These scenarios only take place first two songs, mind you. After this horror story esque ordeal, you get found and sent to get care, but you're plagued with hallucinations of the wolves and paranoia that they return, which are illustrated by low, rumbling double bass and intense electronics. This album is entirely instrumental and it could very well double as a thriller. During a snowstorm, put this on and have yourself a free trip to the movies in your own mind.
3. Bon Iver – For Emma, Forever Ago
Bon Iver, aka Justin Vernon, is probably the epitome of all bearded dudes who want to go into the woods and craft an album that is both heartfelt and heartbreaking. This indie darling went into isolation after his life got a bit too hectic for his own good and holed up in a cabin in the snowy, Wisconsin wilderness. While there, he recorded For Emma, Forever Ago which was an amalgamation of all his regrets, grievances and emotions, backed up by acoustic guitar, light percussion and layers of Vernon's falsetto voice. It sounds like it was recorded in a log cabin, which directly translates to the coziness that this album exudes. On a snowy afternoon, when you have no obligations (or obligations that you'd rather put off), put this record on and cozy up to a good book or something. You deserve it.
4. Burial – Untrue
Burial's Untrue just might be my most favorite album of all time. I'm already aware that that's a pretty bold claim, but I am fairly certain on my conclusion. In the first few seconds of Untrue, it effortlessly warps you into the mind of a confused and saddened Londonite walking around in the dark, rainy city. Burial crafts some of the finest dubstep ever created, but don't be fooled: this isn't the wub-wub dubstep you hear on the radio from the likes of Skrillex or Knife Party. This is the original UK dubstep that was started in the early 00's and centers on atmospheric textures, warped vocal samples and choppy beats, which is exactly what this is. One of Burial's trademarks is a fuzzy crackle throughout all of his songs that sounds like rain hitting a windshield or a hood, rather than a turntable. Muted human voices, almost as if they're talking behind frosted glass, haunt the listener while urban, grimy beats tap against your eardrums. It's a wonderful experience.
5. The Caretaker – An Empty Bliss Beyond This World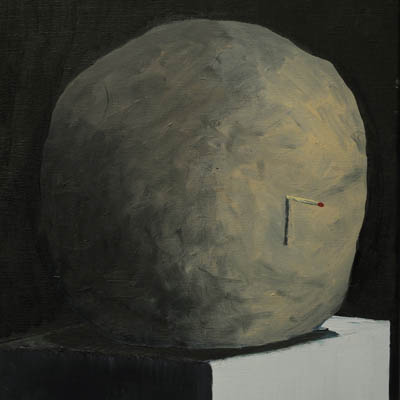 This is definitely one of my favorite albums of all time, but it's kind of a cop-out. It's basically recordings of old swing/jazz tunes with a layer of reverb and fuzz placed over them to replicate feelings of nostalgia for a time when you never lived. The concept is based off of the ballroom scene of "The Shining" where music is floating around the massive ballroom like a ghost or a forgotten memory. Another concept placed upon this album is that you're transported into the mind of an Alzheimer's patient and the patient is trying to remember their favorite songs of their youth, but failing to do so, only remembering certain parts of songs repeat over and over again and the fuzz resembling dust that's covering these unused parts of the subconscious. It's a sad experience, but if you put this on when you have nothing to do but look out onto the falling snow, I'm sure you'll be pleased with yourself. It's full of echoed pianos, muted trumpet, and ambient, warped strings that'll put you in a trance for it's entire duration.
6. Frank Sinatra – In the Wee Small Hours
Classic holiday purists rejoice! Frank Sinatra! Well, it ain't his Christmas albums, but this is a pretty solid album of his! First off, Sinatra's voice has become almost synonymous to holiday times due to his Christmas albums, so that's an easy winter pairing. The cover shows a cartoon Sinatra in deep though, smoking a cigarette on a dark street corridor with a pale bluish green glow from the streetlights coming down. Another great winter themed feeling! There's really not much else to be said here. If you listen to Sinatra around this time you won't go wrong.
7. The Fun Years – Baby, It's Cold Inside
The Fun Years are an ambient electronic duo that craft usually darker, more building ambient pieces compared to say Brian Eno's ambient series. If you aren't familiar with ambient music, I would recommend getting the first of Eno's ambient works, "Music For Airports" since it seems to be the most prolific of all of his releases and it's a great album. Getting into this album, it's one of the best ambient albums I've ever heard: every song breaching the 7-minute mark, slow buildups, great panning of the sound, and the sound itself is very dark and enveloping, much like a thick smoke.
The music itself is very slow, droning guitars that are looped over eachother to create a nice layer of sound to place more loops over, all coated in a blanket of tape fizz. The tape fizz adds elements of nostalgia and the slow strumming, post-rock esque guitars add even more nostalgia. Perhaps something like walking out in the snow? It's all up for interpretation, but this record has plenty of previously mentioned post-rock moments a-la Godspeed You Black Emperor: heavy crescendos, unintelligible samples of dialogue, and a sense of something bigger in the world, have it be an apocalypse or some kind of god. I don't know. That's another brilliant part of ambient music: there's so much room for personal interpretation, no one will ever hear the album the same way.
8. Genius/GZA – Liquid Swords
Now people may disagree with me on this one, but I feel like Liquid Swords is definitely a winter album. The beats sound like they're clattering around the empty, cold streets of NYC on garbage cans and the production sounds like it didn't take place in a studio. It sounds like they were recorded in the streets of NYC and in small apartment rooms while the snow is pounding down onto the projects. The whole thing sounds like it would be a video shot in black and white, unforgiving and cold. There's also a song called "Cold World" which definitely ups the cold feelings that are put out by this album. This is probably my favorite hip-hop album, so you should probably check it out if you haven't yet.
9. Godspeed You! Black Emperor – Lift Your Skinny Fists Like Antennas To Heaven
What winter album playlist would be complete without a great post-rock album? This album is probably the most well known of this prolific second wave post rock band. Slow buildups, horns, strings characterize post rock, a feeling of doom, giant crescendos, tremolo picking of guitar, ominous vocal samples, manic guitar riffs at the top of the buildups and plenty of drones characterize the sound of post rock and this album has ALL of that. It's a bleak but rewarding listen!
10.Have a Nice Life – Deathconsciousness
This elusive Connecticut native group blended elements of post-rock, industrial, doom metal, shoegaze and post-punk all into one massive soundscape of an album, aptly titled "Deathconsciousness." The overwhelming air of despair and melancholy fills this albums realm through every single aspect of this album: the lyrics, the chords, the production, and the vocal delivery. Every single thing about this album clicks into one perfect theme, which is finding nothing inside yourself and nothing around you as well. Yeah that sounds super dark, but the album is overwhelmingly powerful and emotional. I highly recommend this purely for the experience. As for winter, what styles are more winter than doom metal, shoegaze and industrial?
11.The Microphones – The Glow Pt. 2
I read somewhere that if someone put a taste/sensation to this album, it would taste like if your hands were covered in pinesap and marshmallow goo, being warmed by a campfire in the middle of an alpine forest. It's another melancholy album that is mostly acoustic guitar and Phil Elverum's light voice floating over usually chaos. There's usually breakneck changes in the song's timbre, changing from light plucking of guitar to extremely distorted fuzz blasts with Elverum moaning over them. It's a super organic sounding album, like most of Elverum's other works, so it fits perfectly into this playlist, I think.
12.Sigur Ros – Agaetis Byrjun
Another post-rock album added to the list! Sigur Ros is from Iceland and they create a kind of post rock that isn't much into the whole doomsday kind of view but more the reaching of some sort of euphoric heaven. You are lifted up to this higher plane of existence by heavenly strings, light horns, atmospheric synths and guitars, and of course the vocals sung in Icelandic. You can't tell what the singer is saying, so it kind of feels like an unearthly force is pulling you up towards this pillow of paradise. All of the music is really slow, which reminds me of events happening in slow motion, which is another euphoric effect used by musicians these days. All in all, this album is a great experience to put on during a snow to feel like there's some great forces of nature coming together to make you feel all warm inside, when it's really your cheeto-stained snuggie and reindeer slippers that are making you toasty.
13.Sufjan Stevens – Greetings From Michigan
Now I might be a bit biased in this description since it's dealing with my home state, but I'll try to keep it as partisan as possible. Michigan is the best state ever. Oops, there it goes. Well, in all seriousness, Sufjan Stevens' musical biography of Michigan is a wonderful winter album. It's full of lightly strummed acoustic guitar and echoing piano, a perfect background to watching snow fall at night. It's another great cozy album that's just for laying back and enjoying life, even if the songs deal with Michigan's declining economic state. It holds the beauty of Michigan winters, which are spectacular, not to hate on the Northeast, of course.
14.The Tallest Man On Earth – The Wild Hunt
Another cozy album! This one has a bit more gusto to it than the indie folk crooners Bon Iver and Sufjan. The Tallest Man On Earth, the stage name for Kristian Matsson, creates wonderfully cheery Americana folk music that has garnered him comparisons to the sound of greats Dylan and Guthrie. However, this dude is from Sweden! The main draw that causes especially the Dylan comparisons is Matsson's voice, which is very unique compared to other folk acts out there. It holds tons of heart and passion, burning heat in musical form.
15.Women – Public Strain
You know that feeling of driving in a snowstorm and your vision is severely impaired and you're sliding all over the road in the dark? This is kind of what this album sounds like. If this album were a film, there would a film of grease smeared over the lens, giving the whole thing a bleary, dirty kind of look. The music itself is super fuzzy indie rock with buried, reverbed vocals with jangling guitars thrown into the background. It's a sonic blizzard!
Have a wonderful winter season!
Sincerely,
DJ GEIST
Comments
This is great- thanks Geisty!
Sunday, December 09, 2012 05:55 PM
Add a Comment